---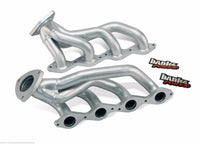 PPW, *BANKS AUTHORIZED DEALER SINCE 2009 & FULL WARRANTY*. FREE SUPPORT 9AM-5PM PACIFIC TIME (6I9)26I-8565.
TorqueTubes® Exhaust Manifolds 2002-2010 (4.8L, 5.3L)
Emissions compliant: CARB E.O. D-161-79
Banks' heavy-wall 400-series stainless TorqueTubes include two full exhaust manifold assemblies, each with a seamless high-velocity collector. Unlike the restrictive stock setup, Banks TorqueTubes literally "pull" out the exhaust, unleashing greater torque and helping the intake stroke to draw in more air. Includes all required hardware.
Application:
Torque Tube System, Non-A/I (no air injection)
2002-2011 Chevy 4.8-5.3L
1500 Series