---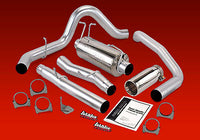 PPW, *BANKS AUTHORIZED DEALER SINCE 2009 & FULL WARRANTY*. FREE SUPPORT 9AM-5PM PACIFIC TIME (6I9)26I-8565.
Monster® Exhaust
EXCURSION: Monster exhaust system flows up to 91.5% better than stock and virtually eliminates backpressure. The streamlined 4" intermediate pipe(s) and tailpipe are formed of stainless, heavy-wall tubing with constant-diameter bends to maximize flow and lower exhaust gas temps. Banks replaces the factory's restrictive muffler with a polished-stainless steel Monster muffler, featuring a straight-through 4"-diameter flow-path with a Banks-designed expansion chamber which dissipates the annoying mid-range exhaust drone that's so prominent in competitors' straight-through mufflers. The muffler utilizes spun ceramic, very-high-temperature packing, more than doubles the stock flow and delivers an authoritative—but never intrusive—exhaust sound.
Includes a 3-1/2" turbine outlet pipe (T.O.P.).* A huge 5" polished-stainless steel tailpipe tip sports a rolled edge. Double-walled design with 1/2" air gap keeps heat from tarnishing the exterior mirror finish. Adjustable clamp for positioning on tailpipe
         Like a whole new truck!