---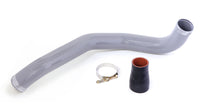 PPW, *BANKS AUTHORIZED DEALER SINCE 2009 & FULL WARRANTY*. FREE SUPPORT 9AM-5PM PACIFIC TIME (6I9)26I-8565.
BOOST TUBE UPGRADE KIT - (DRIVER SIDE)
Do you have cracked or bent intercooler boost tubes? Banks boost tubes are designed to give you greater cooling capacity. Banks boost tubes are manufactured from quality materials to ensure performance and durability.
The Banks boost tube is larger than the factory pipe which will improve airflow, and allow the turbo charger to spool up faster. Will work with a stock intercooler or as an add on to our Intercooler for 2006-2009 Duramax. (upgraded boost tubes included with earlier kits)
» Intercooler Pipe Diameter: 3.000 in.
» Intercooler Pipe Material: Steel
» Intercooler Pipe Finish: Gray powdercoated
Fits LLY, LBZ, and LMM diesel engines only. Driver side tube. Includes spring loaded hose clamps. Tube has 2.375 in. reduction.