---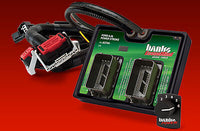 PPW, *BANKS AUTHORIZED DEALER SINCE 2009 & FULL WARRANTY*. FREE SUPPORT 9AM-5PM PACIFIC TIME (6I9)26I-8565.
EconoMind® Diesel Tuner with switch
Calibrated for working and towing, EconoMind is a fully engineered diesel tuner with an unmatched combination of power, safety and versatility. It delivers load-hauling best gains of +100 hp and +175 lb-ft at the rear wheels, and has six change-on-the-fly power levels. Has exclusive safeguards that honor the engine and powertrain.
Pyrometer and boost gauge recommended. All gains measured at the rear wheels, with recommended airflow improvements.