---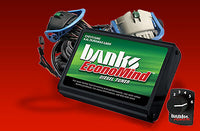 PPW, *BANKS AUTHORIZED DEALER SINCE 2009 & FULL WARRANTY*. 

FREE SUPPORT 9AM-5PM PACIFIC TIME

 (

6I9

)

26I

-

8565

.
EconoMind® Diesel Tuner & switch
A real piece of work.
EconoMind is built for work. Whether you get the Stinger or PowerPack calibration (+75 hp/+145 lb-ft or +100 hp/+193 lb-ft), you've got the goods to haul the goods! With its comprehensive fuel tuning, CleanTune™ Technology and six levels of adjust-on-the-fly power, EconoMind quickens your 40-60 mph towing acceleration by over four seconds!
Works to improve your MPG, too.
EconoMind calibrates the engine to consume less fuel at any power level. You'll get better fuel economy under all load conditions. As a result, it pays for itself over time.
Honors the host vehicle instead of destroying it.
Many tuners reduce fuel delivery as exhaust gas temps rise. But they ignore the powertrain! Banks finds the limits of the engine and powertrain, then adds mission-critical ActiveSafety safeguards to EconoMind so it will live within those limits. Result: safe, reliable power-and lots of it.