---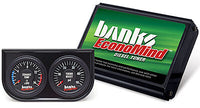 Gains up to: +85 hp/+203 lb-ft.
Ultimate RV Power System
PowerPack pours on the Cummins ISB power: rear-wheel best gains of +85 hp and +203 lb-ft
PowerPack® System
ISB-CR 5.9L COMMONRAIL: With PowerPack, you'll fly up hills without endless downshifting. Pass traffic whenever you want. Merge without the cold sweat! And stretch your driving time between fill-ups.
PowerPack starts with the Banks EconoMind® Diesel Tuner, which optimizes the ISB's air-fuel ratio and unleashes huge power. Includes EconoMind® Diesel Tuner + electronic DynaFact pyrometer and boost gauge assembly (shown below).