---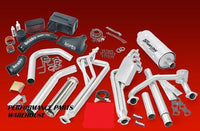 PPW, *BANKS AUTHORIZED DEALER SINCE 2009 & FULL WARRANTY*. FREE SUPPORT 9AM-5PM PACIFIC TIME (6I9)26I-8565.




PowerPack® System

PowerPack System | No Automind
2006-2010 Class-A Ford v10 | Right Exit Exhaust

Here's a major dose of new RV power without the new RV price! PowerPack delivers 26% more horsepower and torque to your V-10: up to +56 hp and +70 lb-ft at the rear wheels. Rockets you up 6% grades 12% faster and chops three seconds off your 0-60 mph time. With PowerPack's engineered intake and exhaust upgrades plus calibrated fuel tuning (optional), your rig will pass and merge a whole lot easier and more safely—and you'll get up to 7% more MPG, too!

Please note: Does not fit 2004 and later Fleetwood Powerplatform and National RV-Duraframe models.

Test Vehicle:
2006 Thor 4-Winds Motorhome equipped with a 6.8L 30-valve Triton V-10 engine. While the engine is rated by the factory at 362 hp, on the dyno the stock best gain was only 242 hp.

Horsepower and torque measured at rear wheels.
Power @ Rear Wheels

Stock Motorhome

Banks PowerPack

Improvement
Result
Horsepower, 
best gain
216.3 hp 
(4200 rpm)
271.9 hp 
(4200 rpm)

+55.6 horsepower
26% more
Torque, 
best gain
270.5 lb-ft 
(4200 rpm)
340.0 lb-ft 
(4200 rpm)
+69.5 horsepower
26% more
Horsepower, 
peak-to-peak
242.1 hp 
(5000 rpm)
284.9 hp 
(4800 rpm)
+42.8 horsepower
18% more
Torque, 
peak-to-peak
316.5 lb-ft 
(3000 rpm)
360.6 lb-ft 
(3600 rpm)
+44.1 lb-ft torque
14% more
Acceleration, 
0-60 mp
24.20 sec

21.28 sec

-2.92 sec
12% quicker
Acceleration, 
40-60 mph
12.00 sec

10.36 sec

-1.64 sec

14% quicker
Hillclimb speed, 
6% grade

52 mph 
(4th gear)

58 mph 
(5th gear)

+6 mph 
(+1 gear)

12% faster

Fuel economy

7.20 mpg

7.73 mpg

+0.53 mpg

7% better