---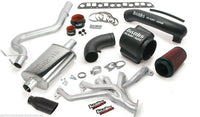 PPW, *BANKS AUTHORIZED DEALER SINCE 2009 & FULL WARRANTY*. FREE SUPPORT 9AM-5PM PACIFIC TIME (6I9)26I-8565.
Emissions compliant: CARB E.O. D-161-75 (TT), D-161-80 (RA)
4.0L 6-CYL: 1998-06 WRANGLER
PowerPack combines all of Banks' 4.0L Jeep airflow upgrades to maximize power no matter what the terrain. It starts with the free-breathing Banks Ram-Air® Intake and high-flow Monster® Exhaust, then adds torque-optimizing TorqueTubes® exhaust manifolds. PowerPack unleashes the power your engine wastes trying to overcome factory intake and exhaust airflow restrictions. By improving engine efficiency, more power gets to the rear wheels, your engine lives longer and fuel economy improves. The exhaust note is rich and authoritative, and includes a polished-stainless tailpipe tip.
System Includes:
TorqueTubes® Exhaust Manifold 4.0L
4.0L 6-CYL: 2000-06 WRANGLER, 2000-01 CHEROKEE, 1999-01 GRAND CHEROKEE
With more power, quicker acceleration and tougher construction than ever, the Banks TorqueTube® for the Jeep 4.0 liter out muscles any competitive exhaust manifold: period! Made from super-durable, mandrel-bent 409 stainless steel tubing and sporting a ½"-thick precision ported and machined flange. Powering through the roughest terrain is no longer a question.
And cracking... a thing of the past when you arm your Jeep with Banks TorqueTubes.
Banks TorqueTube Manifolds feature:
Non-deforming manifold outlet seal
Self-aligning exhaust seal will never compress or blow out • Bolts easily to stock exhaust
Manifold tubes fully welded
Each tube is welded to the flange twice, inside and out
Super-duty manifold flanges
1/2"-thick flanges never warp or crack • Computer-controlled machining • Precision port-match to cylinder head
Unrestricted Exhaust Ports
Tubes sized and shaped to match cylinder-head exhaust port
Precision-milled manifold flange
Milled dead-flat after welding, for durability and a perfect seal every time
Stainless Steel
Sustains exposure to ultra-high temps for superior durability • Mandrel-bent tubing for better airflow
Banks Ram-Air® Intake System 4.0L
4.0L 6-CYL WRANGLER
Banks Ram-Air Intake System replaces the factory's flat panel filter with a large conical lifetime filter that provides maximum high-flow filtration. The Ram-Air's opening is over twice as big as stock's, and without the 90-degree detours that choke airflow and kill power. The huge inlet, enclosed housing and much larger tubing reduce restrictions, dramatically improving airflow to the cylinders.
The results are impressive: Banks Ram-Air Intake more than doubles the factory intake's airflow, improving the Jeep's power and fuel economy. And Banks Ram-Air is designed to accommodate engine movement, which prevents component damage for reliable service life.
Monster® Exhaust 4.0L
4.0L WRANGLER: Constructed entirely of heavy-gauge stainless steel, Banks Monster features a supersized, 2.5-inch tailpipe with a stainless tailpipe tip polished to a mirror finish. Banks Monster muffler, its straight-through performance muffler, is the industry's least restrictive. In comparison tests, Banks muffler flowed 501.2 cfm at 1 psi—a 140% improvement over the stock exhaust's 208.6 cfm, and about 44% better than the nearest competitor.
Monster virtually eliminates backpressure from the catalytic converter back, for more power and efficiency—and an authoritative, yet civil, exhaust note. For maximum results, combine with Banks TorqueTube® system.
Includes: Stainless Monster muffler; Stainless 2.5" tailpipe; Black stainless tailpipe tip; Mounting hardware.