---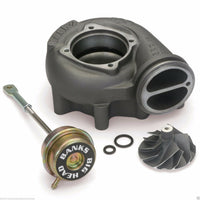 PPW, *BANKS AUTHORIZED DEALER SINCE 2009 & FULL WARRANTY*. FREE SUPPORT 9AM-5PM PACIFIC TIME (6I9)26I-8565.
Application: 1999.5-2003 Powerstroke 7.3L diesel.
You will hear a substantial whine as the turbo spools up at lower RPM's
Quick-Turbo® Assembly with Compressor Wheel & BigHead Actuator
Banks developed the Quick-Turbo in conjunction with the Garrett Turbo and Ford/Navistar, to eliminate sluggishness "out of the hole" and produce strong acceleration. Quick-Turbo produces massive torque right from idle, achieves a higher peak faster, maintains more boost through the powerband, and doesn't over-boost.  Developed to maximize turbo-diesel efficiency, Quick-Turbo provides massive instantaneous torque.
High-Boost Compressor Wheel
• Eliminates compressor surge common in stock '99-1/2-03 Ford Power Strokes
• Improves turbo performance at higher boost levels
BigHead® Wastegate Actuator
Power NOW!
When turbo exhaust backpressure increases, the stock actuator prematurely blows off the seat, softening boost in the midrange and killing torque. With twice the diaphragm area and spring pressure of the stock wastegate, Banks BigHead Wastegate Actuator keeps the valve seated longer and achieves a higher peak boost, sooner. At peak, BigHead opens the wastegate and holds its position, for precise boost control that gives you crisp acceleration and more mid-range pulling power.