---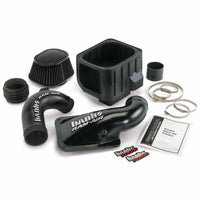 PPW, *BANKS AUTHORIZED DEALER SINCE 2009 & FULL WARRANTY*. FREE SUPPORT 9AM-5PM PACIFIC TIME (6I9)26I-8565.
Banks Ram-Air® Intake System
- Dry Filter
Emissions compliant: CARB E.O. D-161-102
Appilcation: 2006-2007 Chevy/GMC 2500/3500 Silverado/Sierra (Classic Body Style, Early '07 Only)
The Banks Ram-Air Intake System delivers exceptional airflow and air density. Its large cotton gauze air filter requires fewer cleanings than competitive filters (stock's small paper filter is not reusable). With its giant 7-1/8" outlet, streamlined components and enclosed cold-air box that keeps hot engine air out of the intake, the Ram-Air flows up to 57% better than stock. Improves power and fuel economy; lowers exhaust gas temps and reduces black smoke. (An indicator of unburned fuel, black smoke is power you can see but not use!)
And Banks' unique 5" bellows accommodates engine movement, which prevents component damage and prolongs service life. Designed to not cause fault or error codes; lifetime limited warranty on filter element.