---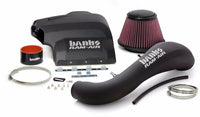 PPW, *BANKS AUTHORIZED DEALER SINCE 2009 & FULL WARRANTY*. FREE SUPPORT 9AM-5PM PACIFIC TIME (6I9)26I-8565.
BANKS RAM-AIR® INTAKE SYSTEM - OILED FILTER
Emissions compliant: CARB E.O. D-161-99
For 2011-14 5.0L. Banks opens up your truck's breathing with a flowbench-developed and dyno-proven Ram-Air Intake System that is 53.4% less restrictive than stock on the 5.0L at 600 CFM. Ram-Air's lifetime filter has a huge outlet with deep filter pleats that maximize flow and a complete air filter housing that draws in cooler, denser air to the engine for greater power and fuel economy.
Features & Benefits:
• Large filter housing, specially designed inlet and low-restriction tubing optimize airflow
• Giant dome-shaped lifetime filter replaces flat panel filter for more flow; never buy another filter
• Large filter area for maximum high-flow filtration
NEW FILTER OPTIONS! 
Choose from the traditional 
red, oiled filter or the all-new 
black, dry filter.
Flowbench numbers are one thing, but engine bays are not an open room with cool dense air. Density is the key to power. That's why Banks tests in real world conditions.
Considering an air intake? You need to look here first. Banks Ram-Air blows away the stock configuration and our competitors! Some are worse than stock!