---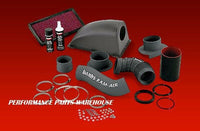 PPW, *BANKS AUTHORIZED DEALER SINCE 2009 & FULL WARRANTY*. FREE SUPPORT 9AM-5PM PACIFIC TIME (6I9)26I-8565.
Banks Ram-Air® Superiority
(W-Series) Replaces constricted factory setup; flows up to 66% better than stock. Incl. large custom filter housing cover, tubing, adapter and high-flow lifetime filter.
Banks Ram-Air® Intake system
On W-Series Workhorse motorhomes, Banks Ram-Air intake system replaces the constricted stock setup for up to 66% more airflow than stock. The high-flow Ram-Air filter does away with intake obstructions so more cool, dense ram-air can make its way into the cylinders. The filter housing cover and tubing are larger than stock to enhance flow. And the Banks adapter enlarges the air filter box inlet to significantly improve airflow and power output.