---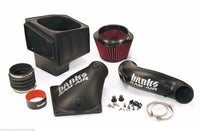 PPW, *BANKS AUTHORIZED DEALER SINCE 2009 & FULL WARRANTY*. FREE SUPPORT 9AM-5PM PACIFIC TIME (6I9)26I-8565.
Banks Ram-Air® Intake System
Emissions compliant: CARB E.O. D-161-100
Testing, testing & more testing.
Banks Ram-Air Intake Systems are tested and proven. They start out as CAD software prototypes and are put through flow simulations. After a hardware prototype is made, it's tested on a flowbench. Then it's tested on the vehicle. And finally, Banks' density-tests the Ram-Air against stock and many competitors.
Proven design. Proven performance.
Thanks to its enclosed cold-air housing, huge inlet, giant dome-shaped lifetime filter and streamlined design, Banks Ram-Air Intake maximizes the flow of cool, dense air to the engine for greater power and fuel economy. It flows 50% better than stock-and delivers greater air density to the turbo's inlet than the stock system and all competitors tested.
Longer service life, too.
An aftermarket exclusive: with 4½" bellows, Banks Ram-Air accommodates engine movement, which protects the components and extends service life. What's more, Ram-Air is designed to not cause fault or error codes.
It's all about density.
And Banks Ram-Air Intake delivers. The harder you work your truck, the more Banks Ram-Air Intake improves power and fuel economy!
REVIEWS:
Several Banks items on my Cummins truck
2010-04-21
I just wanted to drop you guys (and gals) a letter stating how much I appreciate your products. I just spent the afternoon taking a competitor's product off my truck because it did not work as claimed and in fact made my vehicle unpleasant to drive. I have several Banks items on my truck and they all have fit perfectly, worked as claimed and have never caused me a minute of dissatisfaction. I will always buy from your company in the future for any performance product related to my vehicle. Trust me when I say I just wasted $400 to learn that I should've stuck with a brand I know and trust. Keep up the good work.
Matt V.
Farmington, UT
5.9L Cummins