---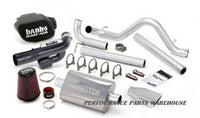 PPW, *BANKS AUTHORIZED DEALER SINCE 2009 & FULL WARRANTY*. FREE SUPPORT 9AM-5PM PACIFIC TIME (6I9)26I-8565.
Emissions compliant: CARB E.O. D-161-99
Stinger is an engineered power system for Jeep street and off-road applications. With its free-breathing Banks Ram-Air® Intake and Monster® Exhaust upgrades, Stinger liberates 3.6L Jeeps from airflow restrictions, improving engine efficiency, durability and fuel economy while increasing power. The exhaust note is authoritative, yet civil, and includes a polished-stainless tailpipe tip.
Banks Ram-Air® Intake System, 3.6L
3.6L 6-CYL: 2012-18 WRANGLER
Banks Ram-Air Intake System replaces the factory's flat panel filter with a large conical lifetime filter that provides maximum high-flow filtration. The Ram-Air's opening dwarfs the stock's inlet, and without the 90-degree detours that choke airflow and kill power. The huge inlet, enclosed housing and much larger tubing reduce restrictions, dramatically improving airflow to the cylinders. Another key element is the tuned "Helmholtz" resonator which eliminates engine drone while maintaining a throaty sound.
Sound tuning—only from Banks Power!
The volume of air, tuned by the geometry of the resonator, acts as a shock absorber dampening the offending frequency (the dreaded "drone" that is common in other aftermarket intakes). No other company offers this unique feature—it's another exclusive industry first from Banks!
The results are impressive: Banks Ram-Air outflows the stock intake by 64%, improving the Jeep's fuel economy and power, with gains of +8 hp & +11 lb-ft. And Banks Ram-Air is designed to accommodate engine movement, which prevents component damage for reliable service life.
Monster® Exhaust, 3.6L
3.6L V-6: 2012-18 WRANGLER
Constructed entirely of heavy-gauge stainless steel, Banks Monster features a supersized, 2.5-inch tailpipe with a stainless tailpipe tip polished to a mirror finish. Monster Muffler, Banks' straight-through performance muffler, is the industry's least restrictive, more than doubling the stock flow.
Monster virtually eliminates backpressure from the catalytic converter back, for more power and efficiency—and an authoritative, yet civil, exhaust note.
Includes: Stainless Monster muffler; Stainless 2.5" tailpipe; Stainless tailpipe tip in chrome; Mounting hardware.