---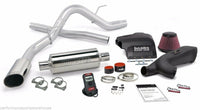 PPW, *BANKS AUTHORIZED DEALER SINCE 2009 & FULL WARRANTY*. FREE SUPPORT 9AM-5PM PACIFIC TIME (6I9)26I-8565.
Power Gains: +72 HP | +87 Lb Ft Torque
Stinger® System
Application
Air Filter Type
Exhaust Specs

2011-14 Ford F-150 - 3.5L EcoBoost
All Cab & Bed Lengths
Oiled, Washable
Chrome Tip
System Includes:
AutoMind® Programmer
Wrap Your Hand Around Some Serious Power!
Introducing the latest in pre-loaded, pre-programmed power from the most trusted name in engineered engine efficiency. Banks is the only record-holding engine builder in the programming game, and now that expertise can be yours!
The Banks AutoMind programmer comes "ready to run" with pre-loaded power right out of the box…and right for the job at hand! Its calibrations were developed with power and increased MPG in mind. The AutoMind can also display a host of critical engine functions and provides "service technician" diagnostic capabilities with its ability to scan and clear vehicle trouble codes.
Intense, usable, real horsepower… only from Banks!
Banks Ram-Air® Intake System
Banks opens up your truck's breathing with a flowbench-developed and dyno-proven Ram-Air Intake System that is 64.6% less restrictive than stock on the 3.5L at 600 CFM. Ram-Air's lifetime filter has a huge outlet with deep filter pleats that maximize flow and a complete air filter housing that draws in cooler, denser air to the engine for greater power and fuel economy.
Features & Benefits:
• Large filter housing, specially designed inlet and low-restriction tubing optimize airflow
• Giant dome-shaped lifetime filter replaces flat panel filter for more flow; never buy another filter
• Large filter area for maximum high-flow filtration
• One system fits all model years; all hardware included to cover every sensor variation (3.5L only)
Monster® Exhaust
Ford 3.5L EcoBoost  Forged from heavy-duty stainless steel, Banks' large bore, mandrel-bent Monster exhaust system connects to your truck's factory intermediate pipe, cutting backpressure and increasing flow. That gives you the best of all worlds - increased power, greater longevity and maximum fuel efficiency. The polished-stainless straight-through muffler outflows stock by a mile and delivers a commanding, yet civil, exhaust note. This system has been specifically developed to work with the factory resonator (where equipped) to eliminate in-cab drone and resonance which can be very pronounced on variable cam timing V6's, while maintaining a throaty performance sound. The system includes Banks' exclusive 6" X 5" ob-round (patented design) angle-cut rolled-edge tailpipe tip in your choice of polished chrome-over stainless or high-temp black! And to help keep it looking good, there's a 1/2" air gap to keep heat from tarnishing the finish. An adjustable clamp lets you position it on the tailpipe just right. The lightweight, direct-fit-system bolts on easily.