---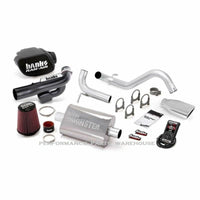 Stinger® System, 3.6L
Emissions compliant: CARB E.O. D-161-99
Stinger is an engineered power system for Jeep street and off-road applications. With its free-breathing Banks Ram-Air® Intake and Monster® Exhaust upgrades, Stinger liberates 3.6L Jeeps from airflow restrictions, improving engine efficiency, durability and fuel economy while increasing power. The exhaust note is authoritative, yet civil, and includes a polished-stainless tailpipe tip.
Banks Ram-Air® Intake System, 3.6L
AutoMind® Programmer
Wrap Your Hand Around Some Serious Power!
(Available for 1998-14 Jeep Gas Engines only) Introducing the latest in pre-loaded and pre-programmed power from the most trusted name in engineered engine efficiency...Banks.
The Banks AutoMind programmer comes "ready to run" with pre-loaded power, with towing, sport, or economy settings right out of the box...and right for the job at hand! Its calibrations were developed with power and increased MPG in mind. The AutoMind can also display a host of critical engine functions and provides "service technician" diagnostic capabilities with its ability to scan and clear vehicle trouble codes.
Intense, usable, real horsepower...only from Banks!
Note: Features vary by application.