---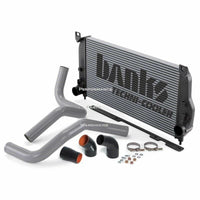 PPW, *BANKS AUTHORIZED DEALER SINCE 2009 & FULL WARRANTY*. FREE SUPPORT 9AM-5PM PACIFIC TIME (6I9)26I-8565.
Techni-Cooler Intercooler System
Intercooler System with Boost Tubes for use with 2001 Chevy/GMC 6.6 LB7
Improves Power, Durability & Fuel Economy
Dramatically increases air density
Cooler EGTs, more MPG & constant-duty power
High-efficiency custom-machined durable cast end tanks
Wide-open inlet and outlet
Reduces boost pressure loss
Maximizes Boost Air
Lowers exhaust gas temps
Packs cool, dense air into the cylinders
Lower restriction for superior flow
5-year Warranty
3 inch mandrel-bent boost tubes
High-efficiency custom-machined end tanks
25% thicker core with 34% more volume
Emissions compliant: CARB EO D-161-82
Optimizes the boosted air density for higher continuous power and lower exhaust gas temperatures. Less restriction. Flows great. The stock intercooler is riddled with restrictions that cause turbulence, which kills airflow and power. Banks minimizes restrictions by making the flow area bigger throughout, from the 3 inch mandrel-bent boost tubes to the 25% thicker core, which has a whopping 34% increase in flow volume. Airflow cranks in Banks' end tanks! Most competitors have poorly designed sheet metal end tanks with square corners that choke airflow. Banks Intercooler 's large, high-efficiency custom-machined end tanks have two advantages. One: The streamlined design and rounded corners improve airflow. Two: Banks' cast end tanks will never melt or burst under high-boost conditions. The king of cool. Removing restrictions and improving airflow lowers boost air temps. This increases the density and oxygen content of air entering the engine, which amplifies power, lowers exhaust gas temps (EGTs) and improves fuel economy. And when EGTs are tamed, the tuner doesn't need to limit fuel delivery. So you get higher continuous, usable power and more safe power at any EGT. Very cool! Everything is bigger: boost tubes, aluminum end tanks, inlet, outlet, and core area. 34% more flow volume. Increases air density for more continuous power.