---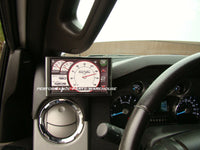 PPW, *BANKS AUTHORIZED DEALER SINCE 2009 & FULL WARRANTY*. FREE SUPPORT 9AM-5PM PACIFIC TIME (6I9)26I-8565.
Dash Mount for '08-'12 Ford F250/350. 
 C
ompatible with the Banks iQ
 & iDash
 Monitor.
*Tuner & iQ monitor not included.  
Must be used in conjunction with the iQ's stock cradle mount.  Please check to make sure the iQ has a ball & socket type mount on the back side.  The ball will be on the windshield mount & socket is on the iQ cradle.  Some early iQ's will be set up differently.