---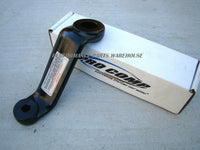 PPW, WE ARE A.S.E CERTIFIED TECHNICIANS. FREE TECH SUPPORT 9AM-5PM PACIFIC (6I9)26I-8565.
PITMAN ARM

When lifted, the drag link attachment point needs to be moved down to reduce link angle, creating the need for a drop pitman arm.; Pitman Arm; 4 in. Drop; Steering correction.
Application: 2003-08 Dodge Ram 2500/3500 w 4-6" LIFT.
Hemi/Diesel All  (Equipped with Power Steering)
*DOES NOT FIT 2003-2008 TRUCKS WHICH HAVE BEEN CONVERTED TO 2009-2012 STYLE 44-SPLINE STEERING BOX
Actual measurement: 4" drop.
Additional suspension components may be required for proper front end geometry