---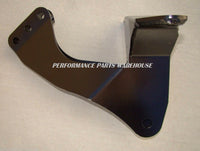 Lowers Track Bar Mounting Point 6"
This rigid bracket lowers the front track bar mounting location at the frame to preserve the track bar's factory operating angle. It is made of 3/16" thick steel and M.I.G. welded for superior strength and includes grade 8 installation hardware. Recommended to be used with Adjustable Front Track Bar and Drop Pitman Arm. In combination with these components it will provide perfect steering geometry that allows increased front suspension travel with no bump steer.
Application: 2005-2007 F250/F350 4WD
V10/Diesel All
Adjustable track bar may be required for proper front end geometry.
Replaces stock upper track bar bracket.