---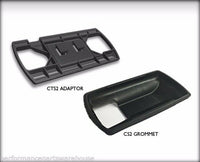 *COMPATIBLE WITH THE NEW CS2 & CTS2 MONITOR
Edge offers a wide variety of custom dash mounts for various vehicle makes and models. This adaptor allows the CS2/CTS2 to fit in these custom dash mounts.
Required to install Edge Evolution/Insight CS2 & CTS2 into optional Edge dash/pillar pod
Use with Edge pods requiring a 2"x4" square adapter.
Tuner & dash pod not included.