---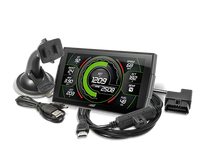 INCREASED POWER & FUEL ECONOMY
A LEAP IN EVOLUTION OF PERFORMANCE
Innovation and quality are part of Edge's DNA.  The Evolution has no peer in the marketplace and is designed for "WOW"!  As an in-cabin controller and programmer, the Evolution is the ultimate package!
The Evolution reprograms your vehicle's stock computer. It resides in the cab with one simple cable connection to the OBDII (diagnostic) port. The Evolution is used to save the stock files from the vehicle's computer and then upload the Edge calibrations into the vehicle's computer. This amazing product is available for both gas and diesel pickups and SUVs.  This product comes with multiple power levels custom tuned by a whole team of engineers, and can be installed in minutes without ever popping the hood. The Evolution greatly increases horsepower and torque. Not only does it re-tune your vehicle, it stays mounted in the cab and features real-time, monitoring of vital engine data for a complete gauge package.  
If you're looking for a product to improve throttle response, that extra power when towing, race down the track, increase fuel economy, or to just improve the overall driveability of your truck then the Evolution is a great options.  Not only do you get these increase performance features but you get a monitor that offers a clean simple solution for gauges like EGT (exhaust gas temperature), Boost readings, transmission temp, load percent, percentage of fuel left, and more with the expandability to even add more with our EAS (expandable accessory system).  We didn't stop there.  Get the CTS2 version and add our backup camera or control your 12 volt power accessories with our Power Switch connector.  Want to learn more for your truck then configure your vehicle and view all the parameters available to monitor, horsepower and torque gains, and all the custom options like tire size calibration.   
Evolution Features:
SLIM, SLEEK CASE DESIGN
5" FULL–COLOR, HIGH-RESOLUTION, SWIPE SCREEN (CTS2) 
2.4" FULL-COLOR, HIGH RESOLUTION, BUTTON-CONTROL SCREEN (CS2)
CUSTOM COLOR MIXER FOR GAUGE ARCS, NEEDLES, AND BACKGROUNDS
MULTIPLE GAUGE SCREEN LAYOUTS
FULLY CUSTOMIZABLE BACKGROUNDS
HDMI STYLE PLUG FOR POWER AND LINKING 
ONE-TOUCH EASY MENU NAVIGATION
NOTIFICATION CENTER
UP TO AN ADDITIONAL 180HP AND 440 FT LB TQ* IN DIESEL APPLICATIONS
UP TO AN ADDITIONAL 50HP AND 50 FT LB TQ* ON GAS APPLICATIONS
TUNING FOR SHIFT POINTS, SHIFT FIRMNESS, TQ MANAGEMENT, FUEL PRESSURE AND MORE*
ADJUST SPEED AND REV LIMITERS*
CORRECT SPEEDOMETER*
PERFORMANCE TUNING FOR MILEAGE, TOWING, DAILY DRIVING, AND PERFORMANCE
IMPROVES LOW-END RESPONSE
SWITCH BETWEEN US OR METRIC UNITS OF MEASURE
LIGHT SENSITIVITY METER TO DIM SCREEN AS AMBIENT LIGHT DECREASES
RECORD RECORDS
DATA LOG RUNS
INTERNET UPDATEABLE
GAUGES*
The Evolution CSs or CTSs monitor the unit is a comprehensive gauge package that stays mounted in the cab of the truck and displays dozens of available parameters at a time. Monitor vital engine data, such as EGTs*, engine coolant temperature, transmission fluid temperature, engine oil temperature, and RPM, to name a few.
SAFETY FEATURES
• User-Adjustable Audible Alert Settings

PERFORMANCE TESTING, ALERTS AND RECORDS
Performs and records 0-60 and quarter-mile times; quarter-mile MPH; peak engine temperature, RPM, speed and transmission temperature values. Sounds audible alerts when user-defined values are reached and automatically records the highest value of key parameters.
• 0-60 MPH Performance Test 
• Quarter-Mile Performance Test 
• Restore Defaults Option
INTERNET UPDATEABLE
A USB cable is included with the unit so that the Evolution CS2 and CTS2 units can be updated via the Internet to include the latest calibration files.
EXPANDABLE (items sold separately)
• Compatible with optional Expandable Accessory System (EAS) to allow users to connect multiple, additional accessories
• Compatible with optional EGT pyrometer for engine protection
BACK-UP CAMERA (sold separately)
The Evolution CTS2 features a built-in video port that allows users to connect the state-of-the-art Edge back-up camera directly to the CTS2 unit.
MYSTYLETM SOFTWARE (included)
MyStyleTM software that allows users to choose from a variety of Edge custom backgrounds or simply upload an image of your choice, size, crop and save to your CS2 or CTS2 unit for the ultimate in customizability.
Ford F-150 1997-2003 4.6L
Level 0: Stock 
Level 1: Transmission Tuning Only
Level 2: 8 Horsepower - 10 Foot Pounds of Torque 
Level 3: 15 Horsepower - 20 Foot Pounds of Torque

Level 0: Stock 
Level 1: Transmission Tuning Only
Level 2: 8 Horsepower - 10 Foot Pounds of Torque 
Level 3: 15 Horsepower - 20 Foot Pounds of Torque

Level 0: Stock 
Level 1: Transmission Tuning Only
Level 2: 15 Horsepower - 20 Foot Pounds of Torque 
Level 3: 30 Horsepower - 40 Foot Pounds of Torque
Supports Cold Air Tunes for Air Force 1 4", Air Force 1 3", S&B, AEM, AirAid, K&N, AFE

Level 0: Stock 
Level 1: Transmission Tuning Only
Level 2: 15 Horsepower - 20 Foot Pounds of Torque 
Level 3: 35 Horsepower - 45 Foot Pounds of Torque
Supports Cold Air Tunes for Air Force 1 4", Air Force 1 3", S&B, AEM, AirAid, K&N, AFE

Level 0: Stock 
Level 1: 5 Horsepower - 5 Foot Pounds of Torque 
Level 2: 10 Horsepower - 10 Foot Pounds of Torque 
Level 3: 18 Horsepower - 35 Foot Pounds of Torque
Supports Cold Air Tunes for AirAid, K&N, AFE

Level 0: Stock 
Level 1: 5 Horsepower - 5 Foot Pounds of Torque 
Level 2: 10 Horsepower - 10 Foot Pounds of Torque 
Level 3: 22 Horsepower - 48 Foot Pounds of Torque
Supports Cold Air Tunes for AirAid, K&N, AFE

Ford F-150 2011-2014 3.5L EcoBoost
Level 0: Stock 
Level 1: 54 Horsepower - 45 Foot Pounds of Torque 
Level 2: 50 Horsepower - 53 Foot Pounds of Torque 
Level 3: 54 Horsepower - 68 Foot Pounds of Torque
Ford F-150 RaptorSVT 2010 5.4L 
33 Max Horsepower - 36 Max Foot Pounds of Torque

Ford F-150 RaptorSVT 2011-2012 6.2L 
24 Max Horsepower - 30 Max Foot Pounds of Torque

Level 0: Stock
Level 1: 28 Horsepower - 48 Foot Pounds of Torque 
Level 2: 24 Horsepower - 37 Foot Pounds of Torque 
Level 3: 23 Horsepower - 38 Foot Pounds of Torque

Level 0: Stock
Level 1: 25 Horsepower - 28 Foot Pounds of Torque 
Level 2: 19 Horsepower - 19 Foot Pounds of Torque 
Level 3: 25 Horsepower - 25 Foot Pounds of Torque
Supports Cold Air Tunes for AFE

Level 0: Stock
Level 1: 26 Horsepower - 34 Foot Pounds of Torque 
Level 2: 13 Horsepower - 16 Foot Pounds of Torque 
Level 3: 20 Horsepower - 25 Foot Pounds of Torque

Level 0: Stock 
Level 1: Transmission Tuning Only
Level 2: 8 Horsepower - 10 Foot Pounds of Torque 
Level 3: 15 Horsepower - 20 Foot Pounds of Torque

Level 0: Stock 
Level 1: Transmission Tuning Only
Level 2: 8 Horsepower - 10 Foot Pounds of Torque 
Level 3: 15 Horsepower - 20 Foot Pounds of Torque

Ford Expedition 1997-2002 4.6L
Level 0: Stock 
Level 1: Transmission Tuning Only
Level 2: 8 Horsepower - 10 Foot Pounds of Torque 
Level 3: 15 Horsepower - 20 Foot Pounds of Torque

Ford Expedition 1997-2002 5.4L
Level 0: Stock 
Level 1: Transmission Tuning Only
Level 2: 8 Horsepower - 10 Foot Pounds of Torque 
Level 3: 15 Horsepower - 20 Foot Pounds of Torque

Ford F-150 Lightning 1999-2004 5.4L
Level 0: Stock 
Level 1: Transmission Tuning Only
Level 2: 15 Horsepower - 20 Foot Pounds of Torque 
Level 3: 35 Horsepower - 45 Foot Pounds of Torque

Ford F-150 Harley Davidson Edition 2002-2004 5.4L
Level 0: Stock 
Level 1: Transmission Tuning Only
Level 2: 15 Horsepower - 20 Foot Pounds of Torque 
Level 3: 35 Horsepower - 45 Foot Pounds of Torque