---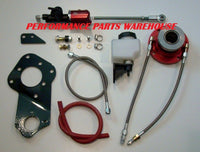 1962-1967 Nova Hydraulic Clutch Linkage Conversion Kit 
Nova owners can now replace the inefficient mechanical 
clutch linkage on their cars with a McLeod Direct Fit Hydraulic Kit.  Ideal for better performance of the clutch system and better durability.  Our Direct Fit kits are designed specifically for your vehicle.
Application: 62-67 Nova;  6-Speed Conversion.
Equipped with 98-02 Camaro, 04-06 GTO, 04-07 Cadillac CTS-V, 10-15 Camaro (Except ZL1 & z28) & Aftermarket Magnum T56.
KIT INCLUDES: Master Cylinder w/ Mounting Bracket & Remote Reservoir, Hydraulic Throwout Bearing, 23" Steel Braided Clutch Line, Misc Hardware.
*
WE ALSO SELL OFFSET SHIFTERS TO ALIGN YOUR SHIFTER FOR USE WITH A STOCK CONSOLE OR PREFERRED LOCATION.