---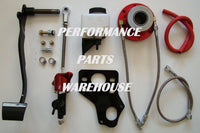 1967 - 1969 Camaro 
Hydraulic Conversion Kit
First Gen. Camaro owners can now replace the inefficient mechanical clutch linkage on their cars with a McLeod Direct Fit Hydraulic Kit. Ideal for better performance of the clutch system and better durability. Our Direct Fit kits are designed specifically for your vehicle. 
Application: 67-69 Camaro/Firebird, 68-74 Nova;  4-Speed
Equipped with Muncie 4-Speed; 1-1/8x10 & 1-1/8x26 Input.
Complete Kit with Master Cylinder, Slave Cylinder, Throwout Bearing, & Steel Braided Clutch Line.