---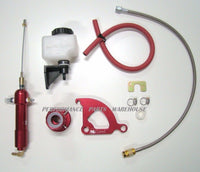 1979-2004 Mustang Hydraulic Clutch Kit - GM LS Swap

Mcleod Racing has just released a new hydraulic master cylinder kit that easily converts
 the Mustang stock cable linkage to hydraulic linkage. Key Benefits:
* Softer Pedal effort = more manageable and smoother clutch operation
* Cleaner clutch disengagement
* Self adjusting, i.e. no more pedal adjustment
* Steel braided lines can be routed around exhaust
* Uses stock pedal, mounts through firewall in stock cable location
* Complete bolt on kit - No modifications necessary!
*
 Master cylinder and line w/ GM quick disconnect fittings.
APPLICATION: 

1979-2004 Mustang with GM LS Engine Swap


1998-2002 General Motors LS1-LS7 & T56 6-Speed Conversion.
Use Original T56 Slave Cylinder w/ GM Quick Disconnect Fittings.
*
WE ALSO SELL OFFSET SHIFTERS TO ALIGN YOUR SHIFTER FOR USE WITH A STOCK CONSOLE OR PREFERRED LOCATION.