---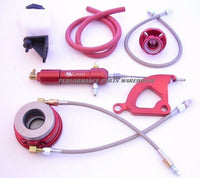 Hydraulic Clutch Conversion
1979-2004 Mustang w/ 2011-2017 Mustang 5.0 Coyote Engine Swap
*Aftermarket K-Member Which Lowers the Engine in the Chassis Required for Master Cylinder / Valve Cover Clearance.
Mcleod Racing has just released a new hydraulic master cylinder kit that easily converts
 the Mustang stock cable linkage to hydraulic linkage. Key Benefits:
* Softer Pedal effort = more manageable and smoother clutch operation
* Cleaner clutch disengagement
* Self adjusting, i.e. no more pedal adjustment
* Steel braided lines can be routed around exhaust
* Uses stock pedal, mounts through firewall in stock cable location
* Complete bolt on kit - No modifications necessary!
Complete Kit Includes; Master Cylinder, Hydraulic Throwout Bearing, Quadrant, Steel Braided Line & Hardware.