---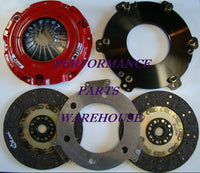 THIS ITEM QUALIFIES FOR FREE SHIPPING
RST Twin Disc
Rated for 

800 HP with pedal effort similar to stock.
For drag racing & burnouts, use our RXT 1000-HP clutch.
Intended for the high horsepower street fan, the RST Street twin clutch kit is an economically priced twin disc clutch kit that does not include a flywheel (you use your existing flywheel). Able to handle 800hp, this clutch can handle almost any horse-power you can throw at it and still remain streetable. Organic lined clutch discs will provide smooth engagement with a soft pedal effort to make this clutch kit ideal for the street peformance enthusiast. Kit Includes: Pressure Plate, two organic friction discs, floater plate, McLeod Patent-Pending adapter ring & pilot tool.
Application:

  FORD 1979-1995 V8 Mustang 5.0 & 1996-2000 Mustang 4.6; Use w/ 157T Flywheel. 1-1/16 x 10 Input