---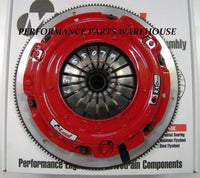 PPW, WE ARE A.S.E CERTIFIED TECHNICIANS. 

FREE TECH SUPPORT 9AM-5PM PACIFIC 
(

6I9

)

26I

-

8565

.
RXT Twin Disc 
Rated to handle 1000 horsepower with pedal effort similar to stock.
The RXT Street Twin clutch kit is an ideal clutch for the extreme horsepower street enthusiast with an economically priced clutch kit. Able to hold up to 1000hp, the extreme version of the RST clutch kit is for those who have kicked it up another notch and are still streetable. Ceramic facings on the clutch discs provide slightly aggressive engagement with a soft pedal effort will make this clutch suitable for most street performance enthusiast. Kit includes: Pressure Plate, two ceramic friction discs, floater plate, adapter ring & pilot tool.
Application: CHEVROLET LS1, LS2, LS3, LS6, LS7 V8; 6-Bolt Crank; Kit includes Aluminum Flywheel. 1-1/8 x 26 Input.
Camaro, Firebird, Trans Am, GTO, Corvette, Holden