---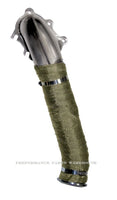 RaceTuning, WE ARE A.S.E CERTIFIED TECHNICIANS. FREE SUPPORT 9AM-5PM PACIFIC TIME (6I9)26I-8565.
3" Stainless Down Pipe
50 States Emissions Legal (E.O. D-701-21) 
Remove your crushed oval-shaped stock down-pipe and replace it with a smooth, round, long-lasting full 304 stainless steel Down-Pipe from PPE. 

Comes with a roll of PPE Titanium Exhaust Wrap and clamps for secure installation.
2001-2004 GM 6.6L Duramax LB7 Federal -Non-EGR

NOTE: For vehicles equipped with an EGR (2002 to 2004 CA vehicles) this tab must be removed with a grinder, cut off wheel or the like.
PPE continues to lead the way with 50 states legal environmentally friendly fuel efficient products.