---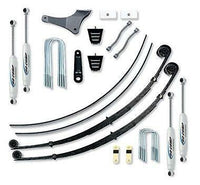 PPW, WE ARE A.S.E CERTIFIED TECHNICIANS. FREE TECH SUPPORT 9AM-5PM PACIFIC (6I9)26I-8565.
Application: 2000-04 Excursion 4WD Lift 4.0" Front / 2.5" Rear. 
33"X12.50" Max tire size.
V10/Diesel All
4 inch Lift Kit with ES9000 Shocks
4 inch Lift Kit with ES9000 Shocks
Lift Height: 4 Inches
Front Lift: Leaf Springs
Front Sway Bar Spacers
Bump Stops
Steering Correction: Pitman Arm
Rear Lift: Block/U-Bolt Kit w/Add-A-Leafs
Shocks: Front/Rear ES9000 Shocks
Shock Boots Not Included
Max Tire Size: 33X12.50
Wheel Size Range (Inches):16-20
Wheel Width Range (Inches):8-10
Min-Max Backspace (Inches)4.0-5.0
Pro Comp is driven by genuine off road enthusiasts. Pro Comp Suspension Products reflect customer-driven, racing influenced technology and engineering with a focus on world-class manufacturing processes and techniques. When it comes to your vehicle's handling, look and performance, we know you don't make compromises and either do we. From the middle of downtown to the middle of nowhere Pro Comp will get you there and back.