---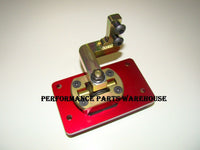 Dodge TR6060 6-Speed Quick Stick.
Used for engine/tranny swaps.  Not to be used in original Dodge Challenger application.  
This shifter eliminates all external linkage and stock base plate.  This shifter will bolt directly to transmission.
These unique offset shifters are unparalleled in the industry, with quicker than stock throw and centering washers that make shifting into 3rd and 4th gear smooth and positive. No other shifter compares to the low friction movement combined with the high durabuility that the Kwik Stiks delivers. These shifters are available with and without positive stops. Beautiful red anodized base and body with gold irridite sub-assembly and cap, these shifters look like they should be on display rather than in a car. Spherical bearing and belville washer design propel you into gear and center you for that 2nd to 3rd gear positive shift. Easy to assemble and disassemble these shifters are consumer friendly in case a repair has to be made.
SHIFTERS ARE CUSTOM BUILT WHEN ORDERED IN SOUTHERN CALIFORNIA.  PLEASE SPECIFY OFFSET UPON CHECKOUT.
*Stock photos.  Your item may vary.  Shifter stick not included.
*PLEASE SPECIFY OFFSET AT CHECKOUT.  SEE LIST BELOW.
 

 

OFFSETS AVAILABLE

 

STRAIGHT UP STICK .875" BOLT PATTERN FOR HANDLE

WITHOUT

 

 

 

 

WITHOUT

POSITIVE STOPS

 

 

 

 

POSITIVE STOPS

OFFSET LEFT

 

 

 

 

OFFSET RIGHT

OFFSET 1" LEFT OR RIGHT

OFFSET 1" LEFT OR RIGHT    .500" FORWARD

OFFSET 1" LEFT OR RIGHT    .650" FORWARD

OFFSET 1" LEFT OR RIGHT  1.150" FORWARD 

OFFSET 1" LEFT OR RIGHT  1.300" FORWARD

OFFSET 1" LEFT OR RIGHT  1.800" FORWARD

OFFSET 1" LEFT OR RIGHT  1.950" FORWARD

OFFSET 1" LEFT OR RIGHT  2.450" FORWARD

OFFSET 1" LEFT OR RIGHT  2.600" FORWARD

OFFSET 1" LEFT OR RIGHT  3.100" FORWARD

OFFSET 1" LEFT OR RIGHT  3.600" FORWARD

OFFSET 1" LEFT OR RIGHT  3.750" FORWARD

OFFSET 1" LEFT OR RIGHT  4.250" FORWARD

OFFSET 1" LEFT OR RIGHT  4.400" FORWARD

OFFSET 1" LEFT OR RIGHT    .500" BACKWARD

OFFSET 1" LEFT OR RIGHT    .650" BACKWARD

OFFSET 1" LEFT OR RIGHT  1.150" BACKWARD

OFFSET 1" LEFT OR RIGHT  1.300" BACKWARD

OFFSET 1" LEFT OR RIGHT  1.800" BACKWARD

OFFSET 1" LEFT OR RIGHT  1.950" BACKWARD

OFFSET 1" LEFT OR RIGHT  2.450" BACKWARD

OFFSET 1" LEFT OR RIGHT  2.600" BACKWARD

OFFSET 1" LEFT OR RIGHT  3.100" BACKWARD

OFFSET 1" LEFT OR RIGHT  3.600" BACKWARD

 
 

OFFSET 1" LEFT OR RIGHT  3.750" BACKWARD

 
 

OFFSET 1" LEFT OR RIGHT  4.250" BACKWARD

 
 

OFFSET 1" LEFT OR RIGHT  4.400" BACKWARD

 

OFFSET 2" LEFT OR RIGHT 

 
 

OFFSET 2" LEFT OR RIGHT    .500" FORWARD

 
OFFSET 2" LEFT OR RIGHT    .650" 
FOR WARD
 

OFFSET 2" LEFT OR RIGHT  1.150" FORWARD

 

OFFSET 2" LEFT OR RIGHT  1.300" FORWARD

 
 

OFFSET 2" LEFT OR RIGHT  1.800" FORWARD

 
 

OFFSET 2" LEFT OR RIGHT  1.950" FORWARD

 
 

OFFSET 2" LEFT OR RIGHT  2.450" FORWARD

 
 

OFFSET 2" LEFT OR RIGHT  2.600" FORWARD

 
 

OFFSET 2" LEFT OR RIGHT  3.100" FORWARD

 
 

OFFSET 2" LEFT OR RIGHT  3.600" FORWARD

 
 

OFFSET 2" LEFT OR RIGHT  3.750" FORWARD

 
 

OFFSET 2" LEFT OR RIGHT  4.250" FORWARD

 
 

OFFSET 2" LEFT OR RIGHT  4.400" FORWARD
 

OFFSET 2" LEFT OR RIGHT    .500" BACKWARD

 
 

OFFSET 2" LEFT OR RIGHT    .650" BACKWARD

 
 

OFFSET 2" LEFT OR RIGHT  1.150" BACKWARD

 
 

OFFSET 2" LEFT OR RIGHT  1.300" BACKWARD

 
 

OFFSET 2" LEFT OR RIGHT  1.800" BACKWARD

 
 

OFFSET 2" LEFT OR RIGHT  1.950" BACKWARD

 
 

OFFSET 2" LEFT OR RIGHT  2.450" BACKWARD

 
 

OFFSET 2" LEFT OR RIGHT  2.600" BACKWARD

 
 

OFFSET 2" LEFT OR RIGHT  3.100" BACKWARD

 
 

OFFSET 2" LEFT OR RIGHT  3.600" BACKWARD

 
 

OFFSET 2" LEFT OR RIGHT  3.750" BACKWARD

 
 

OFFSET 2" LEFT OR RIGHT  4.250" BACKWARD

 
 

OFFSET 2" LEFT OR RIGHT  4.400" BACKWARD

 
 

OFFSET 3" LEFT OR RIGHT

 
 

OFFSET 3" LEFT OR RIGHT    .500" FORWARD

 
 

OFFSET 3" LEFT OR RIGHT    .650" FORWARD

 
 

OFFSET 3" LEFT OR RIGHT  1.150" FORWARD

 
 

OFFSET 3" LEFT OR RIGHT  1.300" FORWARD

 
 

OFFSET 3" LEFT OR RIGHT  1.800" FORWARD

 
 

OFFSET 3" LEFT OR RIGHT  1.950" FORWARD

 
 

OFFSET 3" LEFT OR RIGHT  2.450" FORWARD

 
 

OFFSET 3" LEFT OR RIGHT  2.600" FORWARD

 
 

OFFSET 3" LEFT OR RIGHT  3.100" FORWARD

 
 

OFFSET 3" LEFT OR RIGHT    .500" BACKWARD

 
 

OFFSET 3" LEFT OR RIGHT    .650" BACKWARD

 
 

OFFSET 3" LEFT OR RIGHT  1.150" BACKWARD

 
 

OFFSET 3" LEFT OR RIGHT  1.300" BACKWARD

 
 

OFFSET 3" LEFT OR RIGHT  1.800" BACKWARD

 
 

OFFSET 3" LEFT OR RIGHT  1.950" BACKWARD

 
 

OFFSET 3" LEFT OR RIGHT  2.450" BACKWARD

 
 

OFFSET 3" LEFT OR RIGHT  2.600" BACKWARD

 
 

OFFSET 3" LEFT OR RIGHT  3.100" BACKWARD
STRAIGHT FORWARD

 

1",1.5",1.65",2.15",2.3",2.8",2.95",3.45",3.6",4.1"


*SPECIFY STRAIGHT FORWARD OR BACK IN CHECKOUT; 
NO PN# REQUIRED

 

 

STRAIGHT BACK