---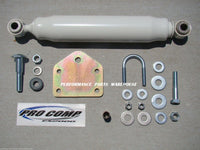 PPW, WE ARE A.S.E CERTIFIED TECHNICIANS. FREE TECH SUPPORT 9AM-5PM PACIFIC 
(6I9)26I-8565.
99-04 super duty STABILIZER SHOCK KIT
Pro Comp Single Steering Stabilizer Kit
Includes Single Pro Comp ES2000 Stabilizer Shock
All Necessary Brackets included
The ES2000 steering stabilizer is specifically engineered to improve handling characteristics and to reduce wheel vibration, which leads to suspension component fatigue and failure. Helps reduce bump steer problems caused by oversized tires and/or rough roads.
Application: 1999-04 F250/F350 4WD; leaf spring front suspension
All Lifts; Stock, 2",4",6",8",10",12"