---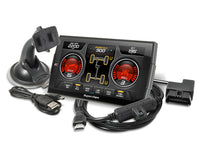 Jeep TrailDash3 2015-18 JK
***This product requires an ECM swap in order to tune your Jeep*** (Inlcuded with Purchase)
ECM Swap Options:
The 2015-2018 Jeeps do require an ECM swap or modification in order to tune and don't worry, Superchips has that all taken care of!.
Option 1: Cross-ship ECM swap (subject to availability of ECMs)
After your stock files have been read with the 42051 TD2 and then saved into the Fusion update software, contact Superchips tech support and they will send you an unlocked ECM and provide a return shipper label to send back your stock ECM.
Option 2: Send in your factory ECM to be unlocked
This free service will be available to you anytime. Once we receive your stock ECM, we will quickly unlock it and get it back to you so you can tune with your TrailDash2.
Bigger and better. That's how we'd describe TrailDash2 (TD2). In addition to the new slim case design, we also upgraded to a 5" full-color display making our gauges the sleekest in the industry. We didn't stop at making the display larger, we also made it better with a new high resolution screen. To complete the streamlined new look, our engineers added one simple HDMI style plug for power and linking EAS accessories. Engage your lockers, bypass TPMS, and more with the Rubicon screen! The all-new EAS switch screen enables you to engage your lights, and other mods on your Jeep. Check out all the screen images and details below. Make sure you check out the Superchips EAS Power Switch to accompany your new TrailDash2! 2015-2016 Jeep Gas TrailDash.
*Power Gains 
+30 HP/+30 lb-ft (2015-2018 3.6L)
Custom Background/ MyStyle
Color Touch Screen Display
Video Capable
Screen Auto-Dim
Compatible with Expandable Accessory System (EAS)
Alerts and Records
Custom Pod/Mount Available
Display True Speed on Monitor
Speedometer Correction
Tire Size - 26'' - 42''
Axle Gear Ratio
4WD-HI Axle Lock
Shift Firmness - Superchips optimized
Speed Limiter
Idle UP
Sway Bar Disable
Data Acquisition
DTC Read & Clear
Internet Updateable
Performance Tune(s)
Tow Tune
Crawl Tune
Economy Tune
_+ 30.0 HP & + 30.0 lb-ftHP
TPMS On/Off Available (Download Required) Adjust feature only available on TrailDash/TD2
Performance 30HP 30TQ
Heavy Tow
Mileage XS Save